F1: Checo Pérez ganó el segundo lugar del GP de España y cierra nuevo doblete para Red Bull / Spanish GP: Verstappen wins from Perez after Leclerc DNF
El mexicano cedió a Verstappen el primer lugar de la competencia por "injusta" instrucción de Red Bull: "Necesitamos hablar más tarde", pronunció al final de la justa
El mexicano, Sergio Checo Pérez (Red Bull), ganó el segundo lugar del Gran Premio (GP) de España, luego de las polémicas instrucciones del equipo del toro rojo que le quitaron el posible liderato.
El jalisciense se mostró desafiante a su escudería en dos ocasiones durante la carrera: la primera, por no permitirle la oportunidad de "pasar" a Verstappen y así lograr rebasar a Russell. Y la segunda, luego que su equipo le ordenara ceder al neerlandés el liderato.
Ante ello, Pérez pidió a su equipo "hablar más tarde", no sin antes felicitar a su compañero y a la escudería del toro rojo por el trabajo en la cardíaca carrera experimentada en el Circuito Barcelona-Catalunya.
De esa manera, Red Bull consigue su segundo doblete de la temporada, mientras que Mercedes Benz regresó al podio luego que Russell subiera al tercer lugar. Cabe señalar que el nuevo resultado convierte a Verstappen en el nuevo líder del Mundial de Pilotos, así como a Red Bull en el Mundial de Constructores.
Campeonato de Pilotos:
Max Verstappen – 110 puntos
Charles Leclerc – 104 puntos
Sergio Checo Pérez – 85 puntos
George Russell – 74 puntos
Carlos Sainz – 65 puntos
Campeonato de Constructores:
Red Bull – 195 puntos
Ferrari – 169 puntos
Mercedes Benz – 120 puntos
MINUTO A MINUTO:
09:42 Checo Pérez finaliza el GP de España en segundo lugar logrando el segundo doblete para Red Bull de la temporada.
El primer lugar se lo lleva su compañero, Max Verstappen, y el Russell queda con el tercer lugar.
La dupla de Ferrari quedó fuera del podio.
09:32 Red Bull se enfila para volver a lograr un doblete con Verstappen en primero y Checo en segundo lugar del Gran Premio de España.
La dupla de Mercedes se quedaría con el tercero y cuarto lugar, mientras Ferrari quedaría completamente fuera del podio.
09:27 Vuelta rápida para el jalisciense con 1.24.108
09:15 Checo Pérez acata las órdenes de Red Bull y cede el liderato a Verstappen.
El mexicano se quedaría con el segundo lugar
09:13 Nueva fricción de Pérez con Red Bull: el equipo le pide que "deje pasar" a Verstappen si el neerlandés muestra más velocidad.
"Es injusto, pero está bien", responde el mexicano.
09:10 El mexicano vuelve a la cabeza del Gran Premio de España.
Se separa de Verstappen, que está en segundo, por cinco segundos.
08:57 Checo Pérez entra a pit y sale en segundo lugar. Verstappen a la cabeza
08:48 Checo Pérez supera a Russell y se coloca como líder del Gran Premio de España
Verstappen en tercer lugar
08:45 Pérez sube al segundo lugar tras entrada de su compañero a pits.
08:43 Charles Leclerc se queda sin potencia. Russell, Verstappen y Pérez lo superan y entran en el podio.
Continúa la lucha de Verstappen contra la ferviente defensa del británico.
08:42 Red Bull niega solicitud y pide al mexicano que se mantenga cercano al neerlandés
08:41 Checo Pérez pide a Red Bull apartar a Verstappen para adelantar a Russell
08:40 Verstappen continúa en pelea con Russell. Checo Pérez se acerca a su compañero con 1.1 segundos de diferencia.
08:32 Checo Pérez registra la vuelta más rápida con 1.27.169
08:29 Pits para el mexicano. Se reintegra en el cuarto lugar por detrás de su compañero neerlandés, cuyo DRS no ha funcionado para superar a Russell, quien mantiene el segundo puesto.
Leclerc continúa en la punta con casi 30 segundos de diferencia
08:24 Checo Pérez sube al segundo lugar tras entrada de Verstappen a los pits
08:20 Por estrategia de Red Bull, Pérez dejar pasar a Verstappen y vuelve al cuarto lugar.
08:16 Pérez sube al tercer puesto tras derrape de Max Verstappen que lo deja fuera del podio.
El neerlandés se reintegra en el cuarto lugar, mientras el jalisciense continúa en disputa con el británico por superarlo y subir al ahora segundo lugar.
08:13 Checo Pérez sostiene ardua batalla con Russell por arrebatar el tercer lugar del podio.
08:03 Arranca el Gran Premio de España
Checo Pérez sube una posición y se coloca en cuarto lugar. Leclerc se mantiene en la punta de la competencia, seguido de Verstappen y Russell.
Se registra incidente entre Lewis Hamilton y Kevin Magnussen (Haas).
08:00 Comienza la vuelta de formación
07:55 Los pilotos se preparan para la vuelta de formación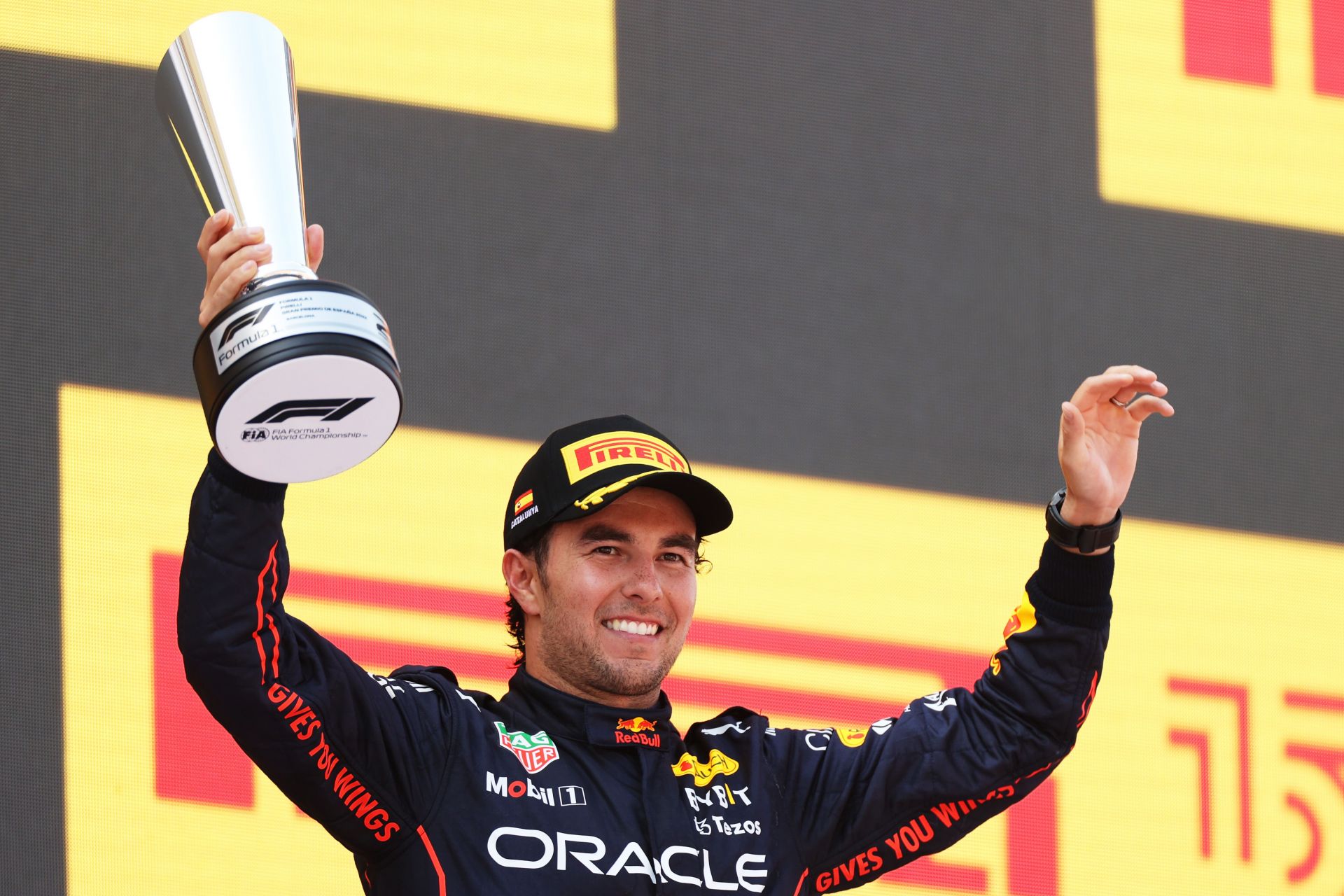 Spanish GP: Verstappen wins from Perez after Leclerc DNF
Max Verstappen has taken the lead of the 2022 Formula 1 championship by recovering from a half-spin to spectacularly win the Spanish Grand Prix after Ferrari's Charles Leclerc retired.
In a frenetic first half of the race, Verstappen cost himself second place by losing the rear end and careering across the gravel before mounting a remarkable recovery run.
Aided by runaway leader and polesitter Leclerc suffering the misfortune of a terminal power unit failure, Verstappen was able to force Red Bull to orchestrate a change for position.
That left Sergio Perez to concede a potential victory, which in turn allowed Verstappen to complete a run of three consecutive triumphs with an eventual 13s advantage at the flag.
The 25-point swing in the early title race gives Verstappen a six-point standings lead heading to Monaco.
George Russell, meanwhile, completed the podium for Mercedes as Carlos Sainz fought back from an early error to claim fourth thanks to a late pass on Lewis Hamilton's poorly W13.
Verstappen enjoyed the marginally better initial launch from second place but on a used set of softs versus the new C3s for Leclerc, the Ferrari clawed away in the second phase.
That gave Leclerc just enough breathing space to pull to the right and put Verstappen off from attempting a lunge into Turn 1 to enable the 13-time polesitter to retain first place.
Sainz, however, was starting on old softs and bogged down to fall back from third behind Russell, Perez, and then Hamilton nabbed fifth around the outside of Turn 3.
But that left the Mercedes squeezed and he and Kevin Magnussen collided to give Hamilton a front-left puncture and the Haas driver came away with a front-right flat and both pitted.
Leclerc moved ninth tenths clear at the end of lap one, maintained the gap to Verstappen next time around and then critically toured 0.3s faster to move clear of the DRS range when the aid was enabled.
His Ferrari teammate then committed his latest mistake as Sainz spun unaided on entry into Turn 4 and careered over the gravel on lap seven, but two laps later Verstappen made a similar mistake in the tail wind as the rear slid out and he ran over the kitty litter.
That rare error promoted Russell to second but with a hefty 8.5s deficit to leader Leclerc.
As Perez attempted to pick up the mantle for Red Bull by challenging Russell, the battling duo enabled Leclerc to further escape up the road so as Verstappen recovered, the team allowed him to pass Perez out of Turn 6 to take the challenge to the defensive Mercedes.
But the reigning champion's attack on Russell was thwarted by a DRS issue, as he had suffered in qualifying to abandon his pole lap, and despite a change of actuator on his RB18 for the race that had meant Verstappen was a late arrival to the grid.
Russell and Verstappen pitted for mediums on lap 13 to leave Perez almost 14s behind Leclerc as the pre-event points leader pumped in laps sixth tenths quicker than his rivals.
Perez was then called to box on lap 18 for a stint on the medium tyre to leave Leclerc alone with a seemingly insurmountable 30 lead as Verstappen nearly dropped his RB18 chasing Russell, having to deftly catch a slid after clipping the inside kerb at Turn 8.
As the Dutch racer grew agitated by his temperamental DRS, Leclerc was called to pit for mediums on lap 21 and Ferrari aced a 2.2s stop to take give Leclerc a 5.7s lead over Russell.
Out alone, Leclerc stretched his lead to 11.2s as Verstappen and Russell avoided any reprimand from the stewards for a robust battle through Turn 3.
But then Leclerc suddenly began to slow on lap 27 with a power unit failure and had his 12s lead evaporate as he crawled to the pits and retired.
That left Russell to defend from Verstappen into Turn 1 for what had become first place, but the Briton was given respite when the Red Bull pitted on lap 29 for another set of softs.
Verstappen passed the baton to teammate Perez, who could overtake Russell for the lead into Turn 1 thanks to a double helping of DRS and the Red Bull engine overspeed.
As Verstappen nailed an accomplished outside pass on Valtteri Bottas through Turn 12, he recaptured third which soon became second when Russell was pitted again on lap 37.
That left Verstappen 6.2s behind Perez as Red Bull closed in on a 1-2 finish before the Mexican pitted for mediums to allow Verstappen to complete an eventual rise to the lead. By: Matt Kew